Gastroenterology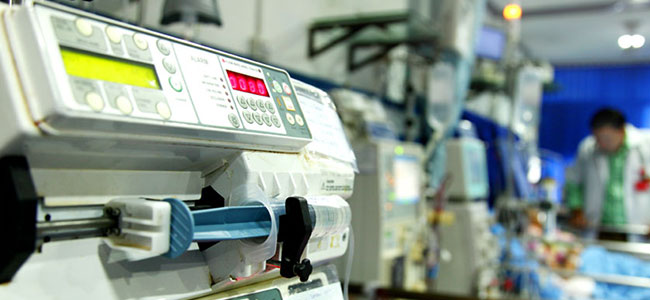 Centre for Gastroenterology & Liver Diseases
The centre provides quality care to patients having any gastrointestinal, pancreatic or liver disease. Its Endoscopy Theatre is equipped with the latest Japanese video endoscopic equipment for all diagnostic and therapeutic Endoscopy procedures for Upper GIT, Colonoscopy, and ERCP (Endoscopic Retrograde Cholangiopancreatography).

The above mentioned diagnostic and therapeutic procedures need to be understood in detail. These are explained below:
ENDOSCOPY
Endoscopy is a nonsurgical procedure used to examine a person's digestive tract. Using an endoscope, a flexible tube with a light and camera attached to it, your doctor can view pictures of your digestive tract on a color TV monitor.

During an upper endoscopy, an endoscope is easily passed through the mouth and throat and into the esophagus allowing the doctor to view the esophagus, stomach, and upper part of the small intestine. Similarly, endoscopes can be passed into the large intestine (colon) through the rectum to examine this area of the intestine. This procedure is called sigmoidoscopy or colonoscopy depending on how far up the colon is examined. A special form of endoscopy called endoscopic retrograde cholangiopancreaticography, or ERCP, allows pictures of the pancreas, gallbladder, and related structures to be taken. Endoscopic ultrasound or EUS combines upper endoscopy and ultrasound examination to obtain images and information about various parts of the digestive tract.
Why Do I Need an Endoscopy?
Doctors will often recommend endoscopy to evaluate:
Dialysis Machines : 12
Stomach pain
Ulcers, gastritis or difficulty swallowing
Digestive tract bleeding
Changes in bowel habits (chronic constipation or diarrhea)
Polyps or growths in the colon
In addition, your doctor may use an endoscope to take a biopsy (removal of tissue) to look for the presence of disease. Endoscopy may also be used to treat a digestive tract problem. For example, the endoscope might not only detect active bleeding from an ulcer, but devices can be passed through the endoscope that can stop the bleeding. In the colon, polyps can be removed through the scope to prevent the development of colon cancer. Also, using ERCP, gallstones that have passed outside the gallbladder and into the bile duct can be removed.
Is Endoscopy Safe ?
Overall, endoscopy is very safe; however, the procedure does have a few potential complications, which may include :
Perforation (tear in the gut wall)
Reaction to sedation
Infection
Bleeding
Pancreatitis as a result of ER
Who Performs Endoscopy ?
Your internist or family doctor may perform sigmoidoscopy in their office. However, all of the other endoscopy procedures are usually performed by gastroenterology specialists (gastroenterologists). Other specialists such as gastrointestinal surgeons also can perform many of these procedures.
How Do I Prepare for Endoscopy ?
Gut Preparation: Examining the upper digestive tract (upper endoscopy or ERCP) requires nothing more than fasting for 6-8 hours prior to the procedure. To examine the colon, it must be cleared of stool. Therefore, a laxative or group of laxatives is given on the day before the procedure.

Sedation: For most examinations with an endoscope, a sedative is provided. This increases the comfort of the individual undergoing the examination. The sedative, which is administered via an injection into the vein, produces relaxation and light sleep. There are usually few if any recollections of the procedure. Patients wake up within an hour, but the effects of the medicines are more prolonged, so it is not safe to drive until the next day.

General anesthesia (puts you totally asleep for a period of time) is given in only very special circumstances (in young children, and when very complex procedures are planned).
COLONOSCOPY
What is colonoscopy ?
Colonoscopy is a procedure used to see inside the colon and rectum. Colonoscopy can detect inflamed tissue, ulcers, and abnormal growths. The procedure is used to look for early signs of colorectal cancer and can help doctors diagnose unexplained changes in bowel habits, abdominal pain, bleeding from the anus, and weight loss.
What are the colon and rectum ?
The colon and rectum are the two main parts of the large intestine. Although the colon is only one part of the large intestine, because most of the large intestine consists of colon, the two terms are often used interchangeably. The large intestine is also sometimes called the large bowel.

The colon and rectum are the two main parts of the large intestine. Digestive waste enters the colon from the small intestine as a semisolid. As waste moves toward the anus, the colon removes moisture and forms stool. The rectum is about 6 inches long and connects the colon to the anus. Stool leaves the body through the anus. Muscles and nerves in the rectum and anus control bowel movements.
How to Prepare for Colonoscopy ?
The doctor usually provides written instructions about how to prepare for colonoscopy. The process is called a bowel-prep. Generally, all solids must be emptied from the gastrointestinal tract by following a clear liquid diet for 1 to 3 days before the procedure. Patients should not drink beverages containing red or purple dye.
Acceptable liquids include:
fat-free bouillon or broth
strained fruit juice
water
plain coffee
plain tea
sports drinks, such as Gatorade
gelatin
A laxative or an enema may be required the night before colonoscopy. A laxative is medicine that loosens stool and increases bowel movements. Laxatives are usually swallowed in pill form or as a powder dissolved in water. An enema is performed by flushing water, or sometimes a mild soap solution, into the anus using a special wash bottle.
Patients should inform the doctor of all medical conditions and any medications, vitamins, or supplements taken regularly, including:
aspirin
arthritis medications
blood thinners
diabetes medications
vitamins that contain iron
Driving is not permitted for 24 hours after colonoscopy to allow the sedative time to wear off. Before the appointment, patients should make plans for a ride home.
How is colonoscopy performed ?
During colonoscopy, patients lie on their left side on an examination table. In most cases, a light sedative, and possibly pain medication, helps keep patients relaxed. Deeper sedation may be required in some cases. The doctor and medical staff monitor vital signs and attempt to make patients as comfortable as possible.

During colonoscopy, patients lie on their left side on an examination table.

The doctor inserts a long, flexible, lighted tube called a colonoscope, or scope, into the anus and slowly guides it through the rectum and into the colon. The scope inflates the large intestine with carbon dioxide gas to give the doctor a better view. A small camera mounted on the scope transmits a video image from inside the large intestine to a computer screen allowing the doctor to carefully examine the intestinal lining. The doctor may ask the patient to move periodically so the scope can be adjusted for better viewing.

Once the scope has reached the opening to the small intestine, it is slowly withdrawn and the lining of the large intestine is carefully examined again. Bleeding and puncture of the large intestine are possible but uncommon complications of colonoscopy.
Removal of Polyps and Biopsy
A doctor can remove growths, called polyps, during colonoscopy and later test them in a laboratory for signs of cancer. Polyps are common in adults and are usually harmless. However, most colorectal cancer begins as a polyp, so removing polyps early is an effective way to prevent cancer.

The doctor can also take samples from abnormal-looking tissues during colonoscopy. The procedure, called a biopsy, allows the doctor to later look at the tissue with a microscope for signs of disease.

The doctor removes polyps and takes biopsy tissue using tiny tools passed through the scope. If bleeding occurs, the doctor can usually stop it with an electrical probe or special medications passed through the scope. Tissue removal and the treatments to stop bleeding are usually painless.
Recovery
Colonoscopy usually takes 30 to 60 minutes. Cramping or bloating may occur during the first hour after the procedure. The sedative takes time to completely wear off. Patients may need to remain at the clinic for 1 to 2 hours after the procedure. Full recovery is expected by the next day. Discharge instructions should be carefully read and followed. Patients who develop any of these rare side effects should contact their doctor immediately:
severe abdominal pain
fever
bloody bowel movements
dizziness
weakness
At what age should routine colonoscopy begin ?
Routine colonoscopy to look for early signs of cancer should begin at age 50 for most people - earlier if there is a family history of colorectal cancer, a personal history of inflammatory bowel disease, or other risk factors. The doctor can advise patients about how often to get a colonoscopy.
ERCP
ERCP (short for endoscopic retrograde cholangiopancreatography) is a procedure used to diagnose diseases of the gallbladder, biliary system, pancreas, and liver. The test looks "upstream" where digestive fluid comes from -- the liver, gallbladder, and pancreas -- to where it enters the intestines. In addition, ERCP can be used to treat problems in these parts of the digestive system.
What Happens During ERCP ?
During ERCP, a gastroenterologist (doctor who specializes in treating diseases of the gastrointestinal system), uses a special endoscope (a long, flexible tube with a light and camera at the end) to examine the inside of the digestive system. The doctor identifies the place where the bile duct comes into the intestine and then feeds a tiny catheter (a plastic tube) into the duct and squirts in a contrast agent while X-rays are taken. The contrast agent allows the doctors to see the bile ducts, the gallbladder, and the pancreatic duct on the X-rays.

Once the source of the problem is identified, the doctor may then treat it by performing one of the following procedures.
Sphincterotomy: This involves making a small incision (cut) in the opening of the pancreatic duct or the bile duct, which can help small gallstones, bile, and pancreatic juice to drain appropriately.
Stent placement: A stent is a drainage tube that is placed in the bile duct or the pancreatic duct to hold the duct open and allow it to drain.
Gallstone(s) removal: ERCP can remove gallstones from the bile duct, but not from the gallbladder itself.
Is ERCP safe ?
An ERCP is considered a low-risk procedure; however, complications can occur. These can include pancreatitis, infections, bowel perforation, and bleeding. Patients undergoing ERCP for treatment, such as for gallstone removal, face a higher risk of complications than patients undergoing the test to diagnose a problem. Your doctor will discuss the risks of possible complications before the test.
How Should I Prepare for ERCP?
Before having ERCP, let your doctor know about any special medical conditions you have, including:
Pregnancy.
Lung conditions.
Heart conditions.
Allergies to any medications.
If you have diabetes and use insulin. You may need to adjust the dosage of insulin the day of the test. Your diabetes care provider will help you with this adjustment. Bring your diabetes medication with you so you can take it after the procedure.
If you are taking blood-thinning medications such as Lovenox (enoxaparin), Coumadin (warfarin), aspirin, Persantine (dipyridamole), or Plavix (clopidogrel), your primary doctor may prescribe an alternate method for thinning your blood before the procedure.
Do not discontinue any medication without first consulting with your primary or referring doctor.
You may need to take antibiotics before the procedure if you:

- Have an artificial heart valve.
- Have ever been told you need to take antibiotics before a dental or surgical procedure.

Do not eat or drink anything for eight hours before the procedure.
You may be drowsy for some time after sedation, so a responsible adult to take you home after the procedure. You should not drive or operate machinery for at least eight hours because the medication given during the procedure may cause drowsiness.

You may need to stay overnight in the hospital after the procedure, so pack personal items you may need.
What Happens After ERCP ?
You will stay in a recovery room for about 1-2 hours for observation. You may feel a temporary soreness in your throat. Suck on throat lozenges to relieve the pain.

A responsible adult must take you home after the procedure. It is also recommended that someone stay with you for 24 hours after the procedure. Do not drive or operate machinery for at least eight hours.

Stay overnight within a 30-minute drive of the hospital so you can get to the emergency room quickly to be evaluated, if necessary.

The results will be sent to your primary or referring doctor, who will discuss them with you. If the results of the procedure indicate that prompt medical attention is needed, the necessary arrangements will be made and your referring doctor will be notified.
Warning about ERCP
If you have any of the following symptoms within 72 hours after ERCP, call your doctor and seek emergency care.
Severe abdominal pain
A continuous cough
Fever
Chills
Chest pain
Nausea or vomiting
FACILITIES
For the care of GI Bleed the hospital has all the facilities including:

Diagnostic Endoscopy, Colonoscopy & Enteroscopy.
Injection Endotherapy, Sclerotherapy.
Banding of Varices and Piles.
Clipping of bleeding site.
Endoloop applications.
Argon Plasma Coagulation.
Electrocoagulation.
Laser photocoagulation and ablation.
Polypectomy for Polyps, Endolooping & snaring of small tumours.
Highly skilled and specialized surgical team is always available to tackle GI Bleed that is not controllable by Endoscopic means.
Blood Bank to take care of the immediate needs of blood transfusion is available and is being run on voluntary blood donation.

Other procedures that are done routinely are:

ERCP to diagnose and treat Pancreatic and Biliary disorders are routinely done at the hospital. On an average 35 to 50 procedures are performed every month.
CBD stones and Pancreatic Stones are being successfully removed.
Stenting Biliary & Pancreatic done for benign and malignant strictures in CBD for chronic pancreatitis including self-expanding metallic biliary stents.
Pseudopancreatic Cysts are drained.
Prosthesis plastic and metallic expandable are deployed for malignant esophageal stricture.
Balloon dilatation for Achalasia Cardia.
Bougie dilatation for esophageal benign and malignant strictures.
Foreign body removal from upper GIT.
PTC and PTBD for malignant biliary strictures.
Liver biopsies, liver abscess and cyst aspirations.