Nephrology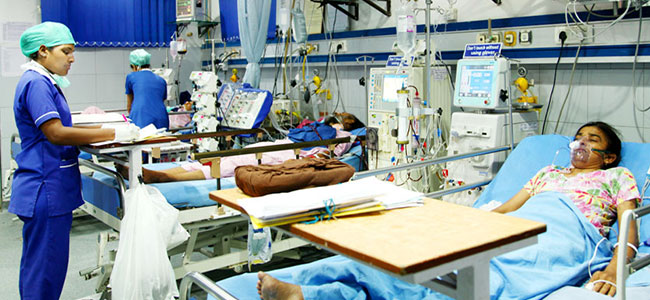 The department of Nephrology provides a comprehensive service for all modalities of renal therapy to an expanding population of patients from Punjab, Himachal Pradesh and Jammu & Kashmir. Patients are managed by a team of three specialists including a transplant & vascular surgeon. The main areas of expertise include Acute Renal failure, Glomerular diseases, Kidney transplant and various Dialytic therapies.
OUT PATIENT DEPARTMENT
General Nephrology OPD : In the General Nephrology OPD, patients come to be diagnosed and managed if their own physician or primary care provider is concerned that they might have a kidney disease. Children with previously diagnosed kidney disease or high blood pressure are followed and seen in the OPD. Patients living with reduced kidney function are seen in the Chronic Kidney Disease OPD. Patients needing Renal Replacement Therapy are seen in the appropriate dialysis or transplant OPD. One of the goals of General Nephrology OPD is the early detection of conditions that might affect the kidney. Early detection and management offers the hope of curing or preventing the progression of kidney disease.

Chronic Kidney Disease OPD : This OPD specializes in the management of patients with chronic diseases of the kidney. Patients with chronic kidney disease (CKD) have specialized needs such as management of anemia, nutritional support, calcium, phosphorous and bone metabolism, and maintenance of growth and intellectual development as well as social support. Interventions to slow progression of chronic kidney disease are critical and strongly advocated.

Our team of nephrologists, nurses, nutritionists and social workers provide tailored care for the needs of our patients. Patients receive an individualized treatment plan from their Nephrologist and their nurse coordinator. The other staff then follows up with each patient and help with lifestyle modification such as controlling high blood pressure and weight, avoiding medicines that can damage kidneys, reducing salt in the diet and ensuring that medications are taken properly.If the patient is progressing to End Stage Renal Disease, with the need for dialysis or transplantation at some point in the future, our goal is to emphasize education and timely preparation for dialysis and / or renal transplantation. Our educators provide extensive background regarding the choices for renal replacement options. Our Counselor can help answer many of the confusing questions regarding other issues that affect people with chronic kidney disease.

Dialysis Programme : We recognize the critical role of dialysis in the holistic continuum of care of patients with kidney failure. More than three-quarters of patients who come to us for kidney transplantation do so while receiving maintenance dialysis. We believe optimal dialysis is a key contributor to the excellent outcomes our kidney transplant program provides. Our dialysis unit houses fourteen state of- the-art dialysis machines.

Because the Dialysis Unit is located inside the hospital, patients can be seen by the medical team frequently during dialysis to monitor care and respond to problems. We also provide the most advanced dialysis water purification technology available anywhere.

Patients receive highly specialized nursing care and attention from a multi-disciplinary team in a cheerful and stimulating setting.

This is especially important to those patients with who come to us for kidney transplantation from outside the city limits. The expertise of the dialysis team keeps patients awaiting kidney transplants in optimal physical condition.
DIALYSIS SERVICES
The hospital has a busy Dialysis Unit with facilities for the following:

Haemodialysis : On an average 1400 patients undergo Haemodialysis every month. The unit is equipped as under :-
Dialysis Machines : 12
For HBsAg +ve : 1
For HCV +ve : 1
Dialyzer Reprocessing Unit
Patient monitoring equipment
Reverse Osmosis Plant
We are acquiring 4 more Dialysis Machines for the treatment of NRI patients exclusively.
The AquaB DUO is a double pass reverse osmosis unit designed to meet the needs and quality standards of a modern dialysis centre.
Microbiological purity :
Two integrated aseptic sample points are installed in the permeate lines one after each bank of membranes to provide easy and accurate microbiological sampling.
Semi-automatic volume controlled chemical disinfection provides accuracy, security and safety during the disinfection cycle.
Safety in dialysis operation :
In case of component failure, the simple quick and secure bypass control provides added security. A continuous supply of permeate can be maintained after either unit has been isolated.
The unit is controlled by a microprocessor which provides a user-friendly interface for both manual and automatic control settings.
Peritoneal Dialysis : The hospital staff is trained to look after peritoneal dialysis. On an average 10 to 15 peritoneal dialysis are done per month.

CAPD : The hospital has the facility and trained staff to look after CAPD program.

CAVH / CAVHD : This mode of dialysis is used for very sick patients with poor cardiac reserve. With the presence of two major cardiac centers in the city we get patients for CAVH after cardiac surgery. The hospital has the facility and trained staff for CAVH and CAVHD both with and without pump. We have two spare pumps for this purpose.
RENAL TRANSPLANT SERVICES
Kidney transplantation programme was started at our hospital during 1996. Swap transplant was started in 2009.
Value addition for Transplant Unit :
Department of Pulmonology & Critical Care Medicine: To deal with infectious complications.
In-house drug (Tacrolimus) level monitoring: Micro particles enzymes Immuno Assay (MIA).
State-of-the-Art, 14 bedded Dialysis Unit with Fresenius AquaB DUO Double Stage RO Plant.
The Transplant Unit usually undertakes "Related Donor" transplantation. All unrelated cases are undertaken after getting due permission from Appropriate Authority and respective Authorization Committee.
Transplant Protocol
All kidney transplants are done as per guidelines issued by the Appropriate Authority / DRME. The following protocols are followed:
Form 1-A used for Related Donors.
Form 1-B used for Spouses.
Form 1-C used for Unrelated Donors.
For all related donors Form-3 duly signed by Pathologist confirming relation of related donor as per HLA match.
Guidelines followed for Recipient :
Affidavits Stating.
No monetary consideration.
No middlemen involved.
Risk involved in surgery, anaesthesia.
Guidelines followed for Donor :
Only related donor accepted - brother, sister, parents, children.
Relations duly supported by - HLA, family photographs, video films.
Identity - established by voter card, driving license, I D card, and educational certificate.
Affidavits certifying – relation, no monetary consideration, consent to donate, risk involved in surgery and anesthesia, complications.
Donor work-up for surgery :
Complete haemogram.
Sugar profile, LFT, Viral markers.
Renal profile – urea, cr., Urine re & me, 24 hrs, pr/cr ratio.
USG, IVP, DTPA Scan.
CT Angiography.
HLA typing, Lymphocytic cross match, cmv status.
Cardiac clearance – echo, coronary angio.
Gynae clearance.
Psychiatric fitness - by psychiatrist.
Video Consent : Video consent is taken from the family members to include the following :
Nature of procedure
Consent for surgery
Success of transplantation
Transplant Team : The centre has done more than 600 kidney transplantations till the year 2012 including 8 Swap Transplant cases. The transplant team constitutes the following :
Surgeons: Two qualified surgeons with good experience in transplant surgery.
Nephrologists: Two qualified nephrologists with experience in transplant management.
Urologists
Intensivist
1st to 3rd Month : Twice a week
3rd to 6th Month : 15 days
After 6 Months : Monthly
Every month after discharge for 6 months.
Twice a month for 6 months.
Yearly.